Wedding times… then our barn is the ultimate place for your wedding party. Here you get a genuine and rustic experience in a carefully renovated barn from the beginning of the 20th century. With wonderful original wooden beams in the ceiling and great space, the barn gives guests an atmosphere out of the ordinary.
Parts of the venue are built with a semi enclosed space with a good size dance floor and beautiful lime-plastered walls to the north and east. Guest are seated in the more expansive dinner space (see picture) where they can move with ease between tables and have direct access to a grand bar area on one side.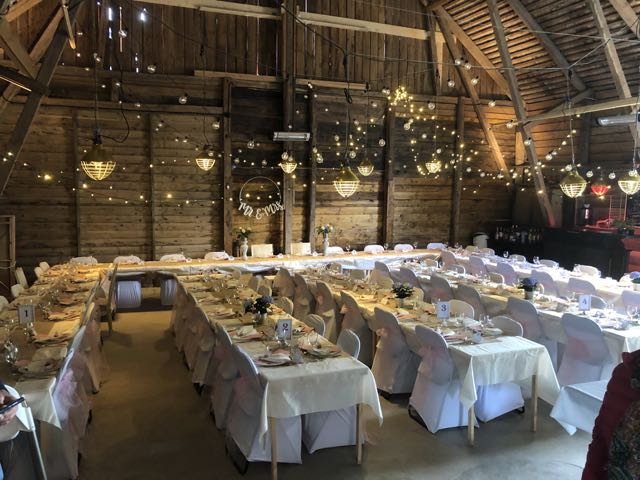 For the best comfort we recommend up to 80 sitting guests (with at most 100 guests), for mingle parties you can be more (not tables and chairs for everyone. It is also possible to place some guests on our dance floor (for example the children) and then remove the tables until the dance begins.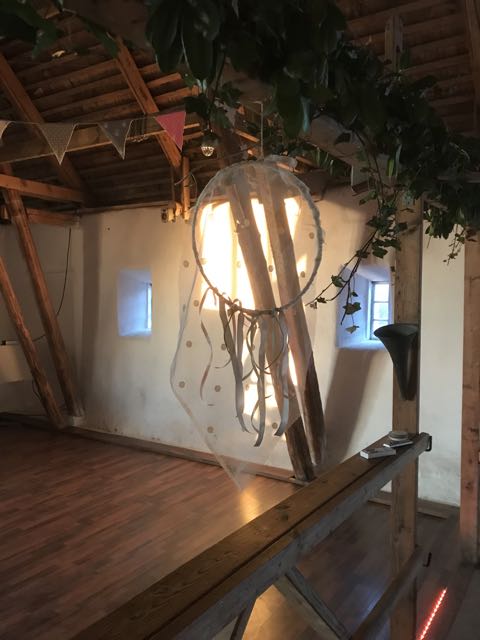 Wires trail higher up towards the ceiling (the space between dance floors and party floors) which also make it possible to hang up lighter props for a personal touch. It can be a nice place to hang up personalized flags or Pom-Poms. The lighting (as well as the sound system) in the premises is permanent but can be dimmed to get the desired atmosphere. Please ask us and we will advise on ideas. We can also help sew up flag games, linen napkins, offer linen tablecloths, etc. if desired.
Tables, chairs and porcelain for 80 people are included in the basic rent. Our music system is also included (wireless microphones can be rented) – we have 5 separate sets of speakers (2 outdoors and 3 on the inside).
Call +46 (0)709-300270 or email info@dalhemfarm.se for price details as well as available date for rental