We who run Dalhemfarm is susanne & Magnus Olsson. Here we live together with our daughter Alma and a whole flock of animals. Dalhemfarm is a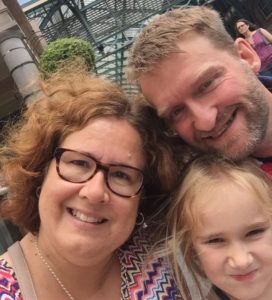 family farm on Magnus' side and has been within the family since the end of the 19th century. In the autumn of 2014 we took over the farm after Magnus' aunt and it was cut off from the rest of the properties around that belong to Magnus' father and cousin.
Now we have converted our barn into a nice and convivial party room for both wedding and party. Here we can offer a rustic and genuine charm with many old details preserved. The idea has always been to renovate very carefully and retain as much of the origin as possible and we believe strongly in recycling.
How to meet with patina, vintage, warmth and great commitment. The genuine and beautiful – at least in our eyes.
What we hear from our guests are phrases like "so nice", "huh good that you have not modernized too much" , "wow – this is exactly what we have been looking for".
Feel free to contact us if you have thoughts or questions about Dalhemfarm!
Well met!!
Susanne, Magnus
& Alma